Location
3851 Evans to Locks Rd suite 105 Martinez, Georgia 30907
About PREMIER MARTIAL ARTS
Strengthen Your Mind. Power Your Body.
At Premier Martial Arts, we help all our students build confidence, develop discipline and grow their character, all while providing a fun, safe physical activity for all ages.
Working with our trained martial arts experts, you'll reach your goals while empowering your mind and body.
Kids' Martial Arts Classes
Our children's classes combine styles of Karate, Tae Kwon Do, Krav Maga, and Kickboxing to develop a well-rounded martial artist. Your children will build character and strength while learning how to focus, persevere and respect others.
Adult Martial Arts Classes
Our adult classes are based on the highly effective self-defense arts of Krav Maga and Kickboxing. Both programs give you a great total body workout while building confidence, helping you learn how to defend yourself, and a fun activity to enjoy with friends.
The Black Belt
of Kids' Birthday Parties
Looking for a memorable birthday party where your child and all his or her friends have a positive, active, fun day? Our martial arts birthday parties provide it all with no hassle for parents. Leave it to the birthday party experts and enjoy watching your karate star enjoy their special day.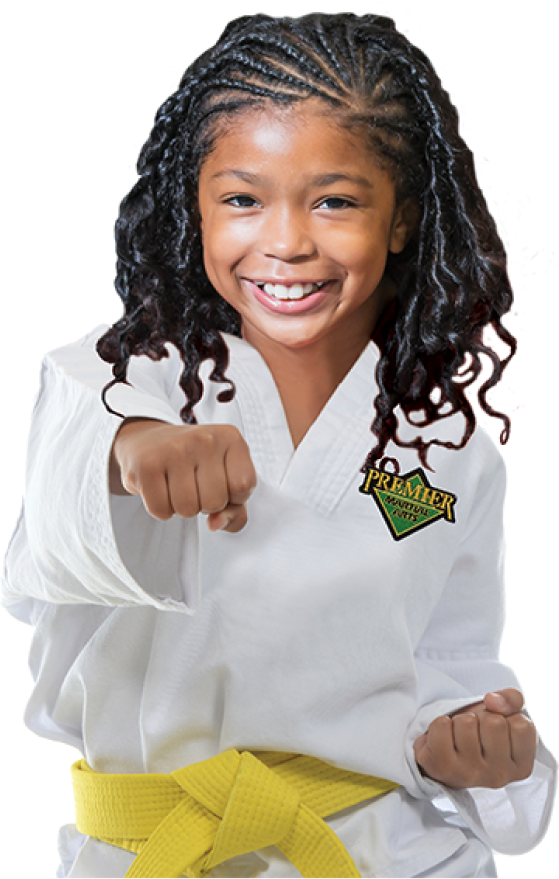 Feel Like a Champion at

Premier Martial Arts Martinez, GA

Looking for a place where you and your kids can be your best self and have fun while doing it? Premier Martial Arts in Martinez, GA is a positive place where you can grow your physical strength, but also change your mindset.

Find the confidence you've been looking for and instill that confidence in your children. At Premier Martial Arts Martinez, GA, you'll find a welcoming team of martial arts experts ready to guide you on a journey of personal growth.

You can be stronger, faster, and happier. Come find your inner champion!
Take a look at how Premier Martial Arts programs have positively impacted our students and their families. We couldn't have said it better!
My girls have learned so much and they have a blast..
signed my five year old up for classes following a difficult move, in which her father and I, who are both military, have to be stationed in different countries and her brother, myself and her had to move from Germany to Georgia. We wanted to give her something to look forward to during this time that everything around her was changing. I was never informed of any refund policy. We attended one class (we paid for nine months) and it proved to be too much for me to balance, with school, work, and keeping constant attention on her two year old brother. I promptly explained the situation to the contact provided and requested to pay only for the class attended and to have the test refunded. I was bounced to a few different people until Albert, someone in charge of the area, told me there would be no refunds and he could move me to a different class. I told him my reasoning for why that wouldn't work, because my schedule and care of my two year old would not change. This happened a few more times after waiting long periods to receive responses. I told him I never received a no refunds talk and that I'd like a copy of my contract ASAP. I have yet to hear anything back not a copy of any contract with a no refund clause. I have never received it nor another response. This whole process has been going on for more than two months. This company is not empathetic to parents nor service members.
I have a boy and a girl at Premier Martial Arts for years now. It is crazy as I'm seeing, both of them (and my girl was shy!), growing with more confidence, work ethic and team work. Love what they are becoming!!!
Martinez, GA

Premier Martial Arts
LOcation
3851 Evans to Locks Rd suite 105 Martinez, Georgia 30907
Ready to find your best self. No matter what your goals for exploring martial arts are, we're here to help you reach them. There's no better time to get started.
TRY PREMIER MARTIAL ARTS TODAY!
We make it easy to try our martial arts programs. Our start-up offer includes two private lessons with a PMA expert trainer to explore your ability level and find the right programs to help you meet your goals. We even include a uniform – everything you need to make a positive change!
TRY IT TODAY!
"*" indicates required fields