Grand Opening! Try us today.
Location
191 N El Camino Real suite 201 Encinitas, California 92024
Karate, Kickboxing, Self Defense & More in Encinitas, CA
Strengthen Your Mind. Power Your Body.
Welcome to [Studio Name], your premier destination for martial arts training in Encinitas, CA. Our esteemed studio offers a wide range of programs tailored to both kids and adults, ensuring that individuals of all ages can embark on an exciting journey of self-discovery and personal growth. Whether you're interested in the traditional art of karate, the practical self-defense techniques of krav maga, the dynamic strikes of kickboxing, the ground-fighting techniques of Jujitsu, or the high-flying kicks of taekwondo, our dedicated instructors are here to guide you every step of the way. With our emphasis on discipline, respect, and skill development, [Studio Name] is the ideal place to embark on your martial arts journey.
Kids' Karate & Martial Arts Classes in Encinitas, CA
Our children's classes combine styles of Karate, Tae Kwon Do, Krav Maga, and Kickboxing to develop a well-rounded martial artist. Your children will build character and strength while learning how to focus, persevere and respect others.
Adult Martial Arts & Self Defense Classes in Encinitas, CA
Our adult classes are based on the highly effective self-defense arts of Krav Maga and Kickboxing. Both programs give you a great total body workout while building confidence, helping you learn how to defend yourself, and a fun activity to enjoy with friends.
The Black Belt
of Kids' Birthday Parties
Looking for a memorable birthday party where your child and all his or her friends have a positive, active, fun day? Our martial arts birthday parties provide it all with no hassle for parents. Leave it to the birthday party experts and enjoy watching your karate star enjoy their special day.
Encinitas, CA

Premier Martial Arts Events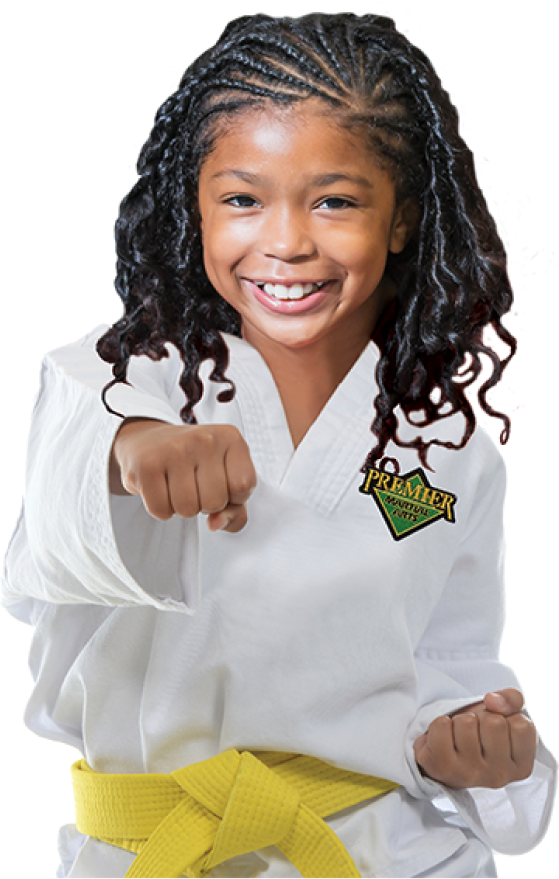 Feel Like a Champion at

Premier Martial Arts Encinitas, CA

Looking for a place where you and your kids can be your best self and have fun while doing it? Premier Martial Arts in Encinitas, CA is a positive place where you can grow your physical strength, but also change your mindset.

Find the confidence you've been looking for and instill that confidence in your children. At Premier Martial Arts Encinitas, CA, you'll find a welcoming team of martial arts experts ready to guide you on a journey of personal growth.

You can be stronger, faster, and happier. Come find your inner champion!
Take a look at how Premier Martial Arts programs have positively impacted our students and their families. We couldn't have said it better!
Premiere Martial arts has been excellent for our 4 year old boy. Great way to keep him interested in personal growth, development and have fun!!
Las clases que mi hijo está tomando con Premier Martial Arts le han ayudado mucho en su actitud y confianza en sí mismo a el le encanta sus clases esta feliz de pertenecer a su grupo y maestros de su clase
My 11 year old daughter moved to a new school at the beginning of the school year. She wanted a new sport and decided to do marital arts. After joining PMA she immediately loved it, practices at home, and looks forward to her classes. She has so much pride that she was able to earn her yellow belt in 3 months and has made great connections with her peers!
Encinitas, CA

Premier Martial Arts Hours
TUESDAY
1:00 pm - 9:00 pm
WEDNESDAY
1:00 pm - 9:00 pm
THURSDAY
1:00 pm - 9:00 pm
LOcation
191 N El Camino Real suite 201 Encinitas, California 92024
Ready to find your best self. No matter what your goals for exploring martial arts are, we're here to help you reach them. There's no better time to get started.
TRY PREMIER MARTIAL ARTS TODAY!
We make it easy to try our martial arts programs. Our start-up offer includes private lesson(s) with a PMA expert trainer to explore your ability level and find the right programs to help you meet your goals. We even include a uniform – everything you need to make a positive change!
TRY IT TODAY! Form
"*" indicates required fields