Location
25075 Blue Ravine Rd suite 130 Folsom, California 95630
Karate, Kickboxing, Self Defense & More in Folsom, CA
Strengthen Your Mind. Power Your Body.
Welcome to Folsom's premier Karate and Martial Arts studio, where we provide exceptional training programs for both kids and adults. Located in the heart of Folsom, California, our studio offers a diverse range of disciplines including karate, krav maga, kickboxing, Juijitsu, and taekwondo. Whether you're seeking to develop self-defense skills, improve physical fitness, or enhance mental discipline, our experienced instructors are dedicated to helping you achieve your goals. With a welcoming and supportive environment, our studio is the perfect place to embark on your martial arts journey. Join us today and discover the transformative power of martial arts training.
Kids' Karate & Martial Arts Classes in Folsom, CA
Our children's classes combine styles of Karate, Tae Kwon Do, Krav Maga, and Kickboxing to develop a well-rounded martial artist. Your children will build character and strength while learning how to focus, persevere and respect others.
Adult Martial Arts & Self Defense Classes in Folsom, CA
Our adult classes are based on the highly effective self-defense arts of Krav Maga and Kickboxing. Both programs give you a great total body workout while building confidence, helping you learn how to defend yourself, and a fun activity to enjoy with friends.
The Black Belt
of Kids' Birthday Parties
Looking for a memorable birthday party where your child and all his or her friends have a positive, active, fun day? Our martial arts birthday parties provide it all with no hassle for parents. Leave it to the birthday party experts and enjoy watching your karate star enjoy their special day.
Folsom, CA

Premier Martial Arts Events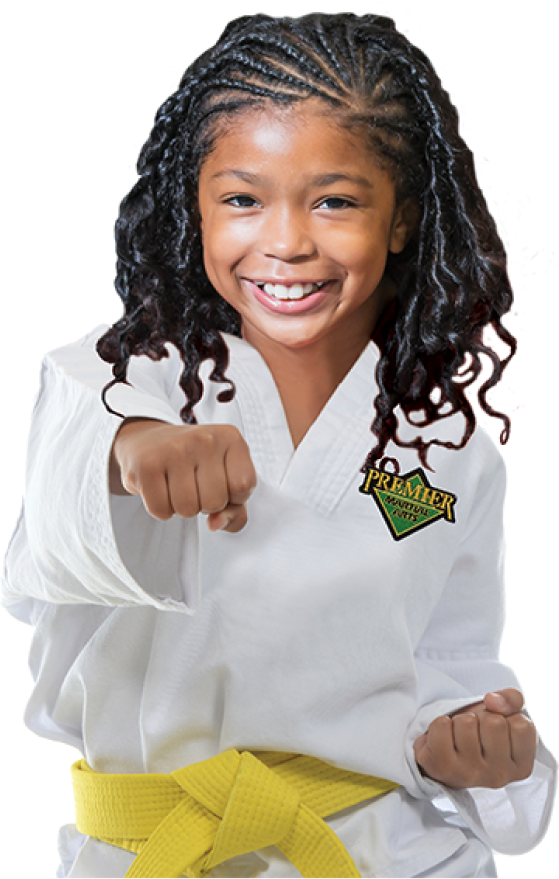 Feel Like a Champion at

Premier Martial Arts Folsom, CA

Looking for a place where you and your kids can be your best self and have fun while doing it? Premier Martial Arts in Folsom, CA is a positive place where you can grow your physical strength, but also change your mindset.

Find the confidence you've been looking for and instill that confidence in your children. At Premier Martial Arts Folsom, CA, you'll find a welcoming team of martial arts experts ready to guide you on a journey of personal growth.

You can be stronger, faster, and happier. Come find your inner champion!
Take a look at how Premier Martial Arts programs have positively impacted our students and their families. We couldn't have said it better!
My husband and I were looking for a karate school for our children and we feel very fortunate to have found Premier Martial Arts! Our children count the days until the next class, have fun and dedicate themselves, as they have the incentive to change belts. Teachers can not only make them work their body, but also their mind. They teach lessons of respect and discipline, something we think is essential for these growing humans. We recommend Premier Martial Arts to everyone! I'm sure that like us, your family will be very satisfied with their service.
My son has been attending this martial arts studio for about a year and his growth in his sense of responsibility and modeling good behavior for others has been amazing. He enjoys his classes, has great relationships with his instructors and other classmates, and looks forward to his class all the time. The families are also very friendly and kind with each other. During class, instructors are stern enough where the kids in the class continue to improve and they tamp down on disruptive behavior very quickly and effectively. At the same time, they are caring towards the kids so you can tell they are enthusiastic to listen to the instructors.
Los maestros son muy buenos y profesionales, tienen mucha paciencia con los niños y les enseñan además de técnicas de karate, movimientos de defensa personal útil para momentos de ataque, además de valores de disciplina y de crecimiento personal. Mi hijo no se pierde ninguna clase, lo recomiendo ampliamente
Folsom, CA

Premier Martial Arts Hours
MONDAY
12:00 pm - 9:00 pm
TUESDAY
12:00 pm - 9:00 pm
WEDNESDAY
12:00 pm - 9:00 pm
THURSDAY
12:00 pm - 9:00 pm
FRIDAY
12:00 pm - 9:00 pm
SATURDAY
8:00 am - 12:00 pm
LOcation
25075 Blue Ravine Rd suite 130 Folsom, California 95630
Ready to find your best self. No matter what your goals for exploring martial arts are, we're here to help you reach them. There's no better time to get started.
TRY PREMIER MARTIAL ARTS TODAY!
We make it easy to try our martial arts programs. Our start-up offer includes private lesson(s) with a PMA expert trainer to explore your ability level and find the right programs to help you meet your goals. We even include a uniform – everything you need to make a positive change!
TRY IT TODAY! Form
"*" indicates required fields