Location
17200 E Iliff Ave suite a3 Aurora, Colorado 80013
About PREMIER MARTIAL ARTS
Strengthen Your Mind. Power Your Body.
At Premier Martial Arts, we help all our students build confidence, develop discipline and grow their character, all while providing a fun, safe physical activity for all ages.
Working with our trained martial arts experts, you'll reach your goals while empowering your mind and body.
Kids' Karate & Martial Arts Classes
Our children's classes combine styles of Karate, Tae Kwon Do, Krav Maga, and Kickboxing to develop a well-rounded martial artist. Your children will build character and strength while learning how to focus, persevere and respect others.
Adult Martial Arts & Self Defense Classes
Our adult classes are based on the highly effective self-defense arts of Krav Maga and Kickboxing. Both programs give you a great total body workout while building confidence, helping you learn how to defend yourself, and a fun activity to enjoy with friends.
The Black Belt
of Kids' Birthday Parties
Looking for a memorable birthday party where your child and all his or her friends have a positive, active, fun day? Our martial arts birthday parties provide it all with no hassle for parents. Leave it to the birthday party experts and enjoy watching your karate star enjoy their special day.
Arapahoe, CO

Premier Martial Arts Events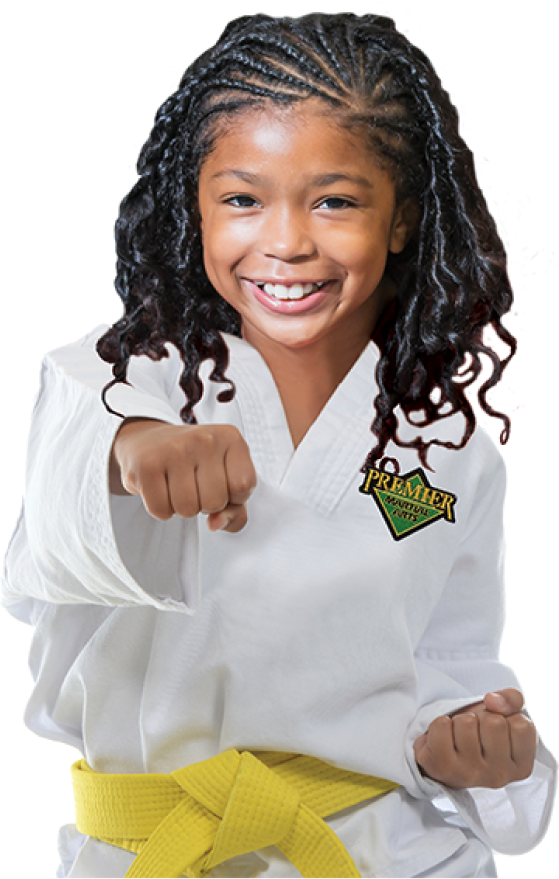 Feel Like a Champion at

Premier Martial Arts Arapahoe, CO

Looking for a place where you and your kids can be your best self and have fun while doing it? Premier Martial Arts in Arapahoe, CO is a positive place where you can grow your physical strength, but also change your mindset.

Find the confidence you've been looking for and instill that confidence in your children. At Premier Martial Arts Arapahoe, CO, you'll find a welcoming team of martial arts experts ready to guide you on a journey of personal growth.

You can be stronger, faster, and happier. Come find your inner champion!
Take a look at how Premier Martial Arts programs have positively impacted our students and their families. We couldn't have said it better!
Premier Martial Arts Arapahoe is awesome! I grew up doing martial arts and have been in and out of it my whole life. The benefits of martial arts, like self-discipline and self-defense, were things I wanted my children to learn and what I benefited from, and so began the search for a good martial arts studio. I had tried and interviewed about six other martial studios in the Aurora and Denver area before I found PMA Arapahoe. I love the MMA style and PMA is great at teaching some of the best defensive techniques from the many martial arts styles out there like Jujitsu, Karate, and KravMaga. I've had some decent instructors growing up, but Sensei Mann is one of the best martial arts instructors I have ever had the pleasure to meet. His passion and patience really shines when he is teaching children, and as an adult taking classes here, he doesn't make you feel awkward if you need more help on something you're learning. He and the other instructors are fantastic at keeping the children engaged while having fun. We've even had a couple of birthday parties here and my kids had a blast. My two kiddos and myself, have been enrolled here for going on a year now. It was one of the best decisions I've ever made for us. This is the place to try out if you're looking for a martial arts studio for yourself, and or your kids!
I've been going here for a year now, and absolutely love it. I never thought I would be doing Martial Arts but here I am. The main instructor, Alex Mann is very supportive, patient and encouraging. You could have any range of experience in Martial Arts to come here, from none to very experienced, and you will be treated with the same respect. The staff is all helpful, and it's just a great environment. I recommend everyone at least give it a shot!
Our daughter has blossomed from being at Premier Martial Arts Arapahoe. We're so happy we made the decision to have her study under Sensi Mann. The time at PMA has been beneficial to our entire family! We love spending the time watching our daughter at PMA!
Arapahoe, CO

Premier Martial Arts Hours
TUESDAY
3:00 pm - 9:00 pm
THURSDAY
3:00 pm - 9:00 pm
LOcation
17200 E Iliff Ave suite a3 Aurora, Colorado 80013
Ready to find your best self. No matter what your goals for exploring martial arts are, we're here to help you reach them. There's no better time to get started.
TRY PREMIER MARTIAL ARTS TODAY!
We make it easy to try our martial arts programs. Our start-up offer includes private lesson(s) with a PMA expert trainer to explore your ability level and find the right programs to help you meet your goals. We even include a uniform – everything you need to make a positive change!
TRY IT TODAY!
"*" indicates required fields