Location
8951 Bonita Beach Rd SE Bonita Springs, Florida 34135
Karate, Kickboxing, Self Defense & More in Bonita Springs, FL
Strengthen Your Mind. Power Your Body.
Welcome to Our Sonita Springs, FL Martial Arts Studio
Welcome to our premier Karate and Martial Arts studio in the heart of Bonita Springs, FL! We pride ourselves on providing exceptional training programs for both kids and adults, encompassing a wide range of disciplines including karate, krav maga, kickboxing, jiu-jitsu, and taekwondo. Our experienced instructors are dedicated to helping students of all ages and skill levels develop their physical fitness, self-defense skills, and mental discipline in a supportive and welcoming environment. Whether you're looking to improve your self-confidence, learn valuable self-defense techniques, or simply have fun while staying active, our studio is the perfect place to embark on your martial arts journey. Join us today and discover the transformative power of martial arts!
Kids' Karate & Martial Arts Classes in Bonita Springs, FL
Our children's classes combine styles of Karate, Tae Kwon Do, Krav Maga, and Kickboxing to develop a well-rounded martial artist. Your children will build character and strength while learning how to focus, persevere and respect others.
Adult Martial Arts & Self Defense Classes in Bonita Springs, FL
Our adult classes are based on the highly effective self-defense arts of Krav Maga and Kickboxing. Both programs give you a great total body workout while building confidence, helping you learn how to defend yourself, and a fun activity to enjoy with friends.
The Black Belt
of Kids' Birthday Parties
Looking for a memorable birthday party where your child and all his or her friends have a positive, active, fun day? Our martial arts birthday parties provide it all with no hassle for parents. Leave it to the birthday party experts and enjoy watching your karate star enjoy their special day.
Bonita Springs, FL

Premier Martial Arts Events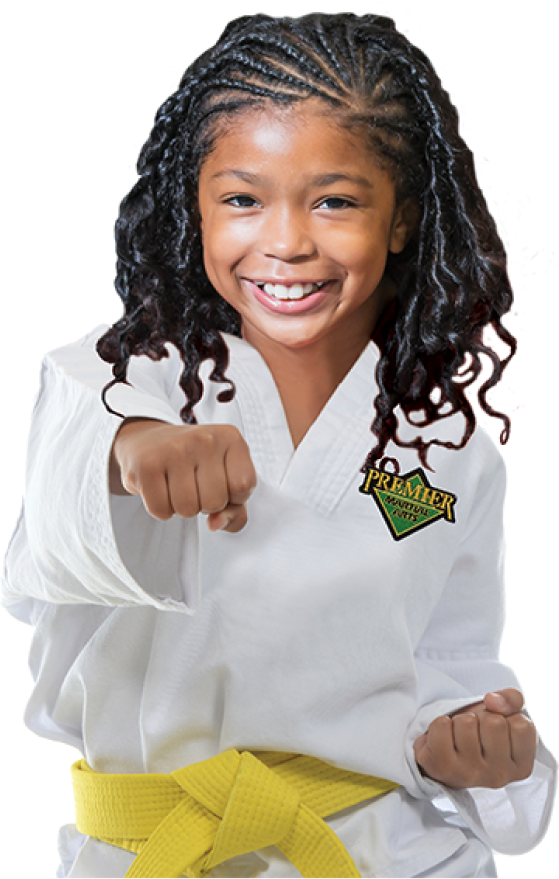 Feel Like a Champion at

Premier Martial Arts Bonita Springs, FL

Looking for a place where you and your kids can be your best self and have fun while doing it? Premier Martial Arts in Bonita Springs, FL is a positive place where you can grow your physical strength, but also change your mindset.

Find the confidence you've been looking for and instill that confidence in your children. At Premier Martial Arts Bonita Springs, FL, you'll find a welcoming team of martial arts experts ready to guide you on a journey of personal growth.

You can be stronger, faster, and happier. Come find your inner champion!
Take a look at how Premier Martial Arts programs have positively impacted our students and their families. We couldn't have said it better!
Premier Martial Arts from Bonita Springs FL is the best martial arts school we could ever find for our 13 years old daughter. The staff members, Pat, Bill and Sage are very professional and had showed to us tremendous amount of compassion and kindness. In only two months we could see improvements regarding our daughter's confidence. We are forever grateful to have had the opportunity to be a part of Premier Martial Arts. Maria, Ryan and Sophia Doelfel
Edit: A year after starting at Premier Martial Arts and we're still super happy with the program, owners and instructor! This is a place I would recommend to anyone. They truly care about what is happening in your kids life to ensure that they can help them learn a grown through all the different experiences. This has been an incredible investment and we look forward to many more years of martial arts in our future. The owners and staff truly care about the kids and families who attend their programs. They take extra time if someone needs additional help. They also mean it when they say they want to help build character. My son had a problem at school and when he told Miss Holly, she sat down to talk about it to really understand what happened. She then reinforced what could be done differently if it ever happened again. Mr. Sage (head instructor) is great with the kids and you can see how much he loves this sport. They really hood the kids accountable to learn the skills for the tests but are realistic about what the kids can learn in their age group. I appreciate the skills and confidence my son has gained from this program in just a few months.
I highly recommend Premier Martial Arts in Bonita. The staff is the absolute best around. They are engaging, patient, consistent, caring, and kind. The facility is clean and organized. We look forward to each class. Thank you Pat, Bill, and Sage for your hard work teaching our kids!
Bonita Springs, FL

Premier Martial Arts Hours
TUESDAY
1:00 pm - 9:00 pm
WEDNESDAY
1:00 pm - 9:00 pm
THURSDAY
1:00 pm - 9:00 pm
LOcation
8951 Bonita Beach Rd SE Bonita Springs, Florida 34135
Ready to find your best self. No matter what your goals for exploring martial arts are, we're here to help you reach them. There's no better time to get started.
TRY PREMIER MARTIAL ARTS TODAY!
We make it easy to try our martial arts programs. Our start-up offer includes private lesson(s) with a PMA expert trainer to explore your ability level and find the right programs to help you meet your goals. We even include a uniform – everything you need to make a positive change!
TRY IT TODAY! Form
"*" indicates required fields