Location
1025 Veterans Memorial Hwy SE #340 Mableton, Georgia 30126
About PREMIER MARTIAL ARTS
Strengthen Your Mind. Power Your Body.
At Premier Martial Arts, we help all our students build confidence, develop discipline and grow their character, all while providing a fun, safe physical activity for all ages.
Working with our trained martial arts experts, you'll reach your goals while empowering your mind and body.
Kids' Martial Arts Classes
Our children's classes combine styles of Karate, Tae Kwon Do, Krav Maga, and Kickboxing to develop a well-rounded martial artist. Your children will build character and strength while learning how to focus, persevere and respect others.
Adult Martial Arts Classes
Our adult classes are based on the highly effective self-defense arts of Krav Maga and Kickboxing. Both programs give you a great total body workout while building confidence, helping you learn how to defend yourself, and a fun activity to enjoy with friends.
The Black Belt
of Kids' Birthday Parties
Looking for a memorable birthday party where your child and all his or her friends have a positive, active, fun day? Our martial arts birthday parties provide it all with no hassle for parents. Leave it to the birthday party experts and enjoy watching your karate star enjoy their special day.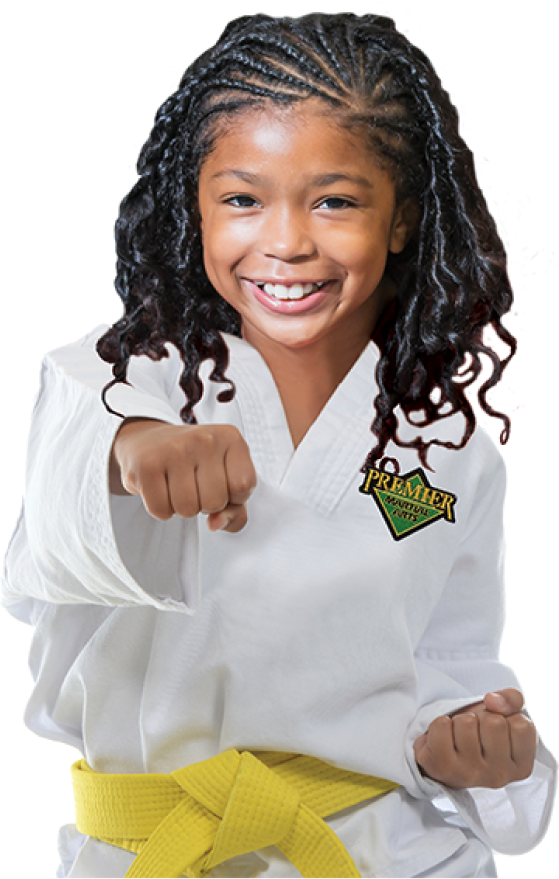 Feel Like a Champion at

Premier Martial Arts Mableton, GA

Looking for a place where you and your kids can be your best self and have fun while doing it? Premier Martial Arts in Mableton, GA is a positive place where you can grow your physical strength, but also change your mindset.

Find the confidence you've been looking for and instill that confidence in your children. At Premier Martial Arts Mableton, GA, you'll find a welcoming team of martial arts experts ready to guide you on a journey of personal growth.

You can be stronger, faster, and happier. Come find your inner champion!
Take a look at how Premier Martial Arts programs have positively impacted our students and their families. We couldn't have said it better!
Great handling with instructions, local, great instructors
I wish I could give this place negative stars.... I've asked these people to stop charging my card multiple times. I've emailed, called and texted... Finally Jessica responds on 9/19/22 and says everything will be cancelled effective immediately.... Woke up this morning and another charge has been put through from this company!! (Almost a month later) These people are absolute scammers and thieves!!!! My son has not set foot in their facility since April 2022. PLEASE GIVE ME MY MONEY BACK!!!!!!
It was fun in the beginning, and then we started to notice the real. 1. This place is definitely all about money. I describe it as people pretty much paying for a belt. 2. The training was mediocre. There were times we noticed our son needing to be corrected while on the mat, and the sensei would not correct him, because they wouldn't even notice it. Why? Because the mat is so packed, there can never be individualized training…unless of course you pay for that. SMH. We took our son out for a moment, because of some life changes and they never once checked in on him, but they kept running our card for tuition. I want to give a shout out to some of the guys my son really enjoyed at times while there (and so did we)- Master Von, Sensei Nelson (who we missed. And after Sensei Nelson left, was when we started to see things). While Sensei Nelson was there, he really pushed the kids and we felt like we were getting our money worth. Also, Sensei John and Carlos were great. Not to mention, during "sales" you have to pay right then and there, and then have to wait for equipment! Was always unorganized, and communication was terrible. Now hearing how things have changed, with another Sensei gone… I know we made the right decision with pulling our son out. It's a shame, because our son had amazing potential, but they didn't care to see that. But we found someone else who does. Good luck to whoever's there now, because it wasn't for us. I've been wanting to write this review (it's been about 5 months since we left), but since they're STILL trying to run his monthly tuition on our card- it reminded me to come finally write it.
Mableton, GA

Premier Martial Arts
LOcation
1025 Veterans Memorial Hwy SE #340 Mableton, Georgia 30126
Ready to find your best self. No matter what your goals for exploring martial arts are, we're here to help you reach them. There's no better time to get started.
TRY PREMIER MARTIAL ARTS TODAY!
We make it easy to try our martial arts programs. Our start-up offer includes two private lessons with a PMA expert trainer to explore your ability level and find the right programs to help you meet your goals. We even include a uniform – everything you need to make a positive change!
TRY IT TODAY!
"*" indicates required fields