Location
27 S Evergreen Ave Arlington Heights, Illinois 60005
Karate, Kickboxing, Self Defense & More in Arlington Heights, IL
Strengthen Your Mind. Power Your Body.
Welcome to Our Arlington Heights, IL Martial Arts Studio
Welcome to our premier Karate and Martial Arts studio in Arlington Heights, IL! We are dedicated to providing exceptional training programs for both kids and adults in a variety of disciplines, including karate, krav maga, kickboxing, Jiujitsu, and taekwondo. Our studio is committed to fostering a positive and empowering environment where students of all ages can develop their physical abilities, mental focus, and self-defense skills. Whether you are looking for a fun and engaging activity for your child or seeking to enhance your own strength and confidence, our experienced instructors are here to guide you on your martial arts journey. Join us today and discover the transformative power of martial arts training at our esteemed studio in Arlington Heights.
Kids' Karate & Martial Arts Classes in Arlington Heights, IL
Our children's classes combine styles of Karate, Tae Kwon Do, Krav Maga, and Kickboxing to develop a well-rounded martial artist. Your children will build character and strength while learning how to focus, persevere and respect others.
Adult Martial Arts & Self Defense Classes in Arlington Heights, IL
Our adult classes are based on the highly effective self-defense arts of Krav Maga and Kickboxing. Both programs give you a great total body workout while building confidence, helping you learn how to defend yourself, and a fun activity to enjoy with friends.
The Black Belt
of Kids' Birthday Parties
Looking for a memorable birthday party where your child and all his or her friends have a positive, active, fun day? Our martial arts birthday parties provide it all with no hassle for parents. Leave it to the birthday party experts and enjoy watching your karate star enjoy their special day.
Arlington Heights, IL

Premier Martial Arts Events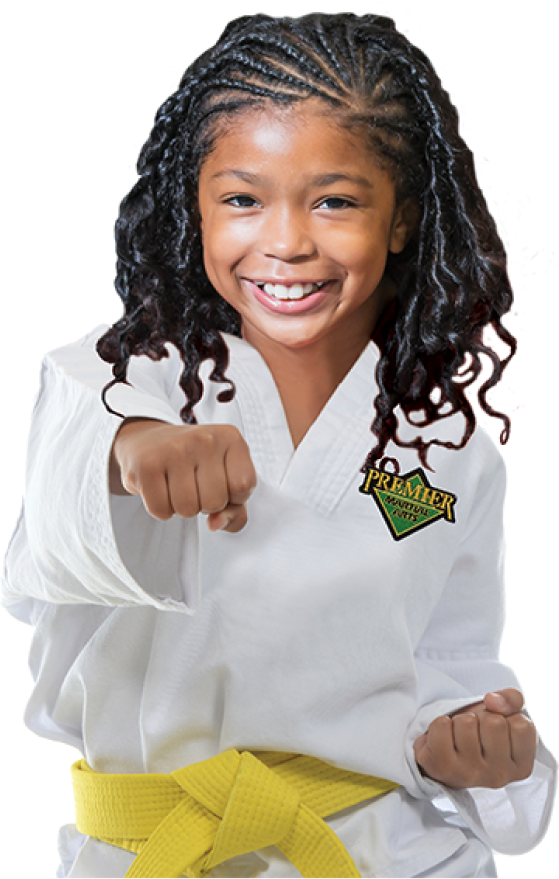 Feel Like a Champion at

Premier Martial Arts Arlington Heights, IL

Looking for a place where you and your kids can be your best self and have fun while doing it? Premier Martial Arts in Arlington Heights, IL is a positive place where you can grow your physical strength, but also change your mindset.

Find the confidence you've been looking for and instill that confidence in your children. At Premier Martial Arts Arlington Heights, IL, you'll find a welcoming team of martial arts experts ready to guide you on a journey of personal growth.

You can be stronger, faster, and happier. Come find your inner champion!
Take a look at how Premier Martial Arts programs have positively impacted our students and their families. We couldn't have said it better!
My 7-year-old son join the school a month ago and it was the best decision that we could make. He admires his couch and the staff is very helpful and friendly. We love that they teach the kids respect, self-confidence, and discipline. The class schedule is also very flexible. We are recommending this school very highly.
My son absolutely loves his MMA class at Premier. He struggles with focusing and since starting MMA back in October/November we have seen a huge improvement in that aspect. He's always looking forward to class and to learning new moves and life lessons. As a parent, finding a place were your children are not only having fun but also learning and growing as individuals is priceless.
My son loves going to his Premier Martial Arts classes twice a week. The coach is so friendly and encouraging. He does his best to bring out the best in eager students, to make them successful in the art. I love how there are moments, during the class, where different subjects are discussed monthly, that can be applied to daily life. It is an extremely clean and professional environment. The staff and owners are wonderful. I would definitely recommend this location.
Arlington Heights, IL

Premier Martial Arts Hours
TUESDAY
1:00 pm - 9:00 pm
WEDNESDAY
1:00 pm - 9:00 pm
THURSDAY
1:00 pm - 9:00 pm
SATURDAY
9:00 am - 11:00 am
LOcation
27 S Evergreen Ave Arlington Heights, Illinois 60005
Ready to find your best self. No matter what your goals for exploring martial arts are, we're here to help you reach them. There's no better time to get started.
TRY PREMIER MARTIAL ARTS TODAY!
We make it easy to try our martial arts programs. Our start-up offer includes private lesson(s) with a PMA expert trainer to explore your ability level and find the right programs to help you meet your goals. We even include a uniform – everything you need to make a positive change!
TRY IT TODAY! Form
"*" indicates required fields