Location
2121 Celebration Dr NE suite 600 Grand Rapids, Michigan 49525
Karate, Kickboxing, Self Defense & More in Grand Rapids, MI
Strengthen Your Mind. Power Your Body.
Welcome to our local karate and martial arts studio in Grand Rapids, MI, where we are dedicated to providing top-notch training for both kids and adults. Our studio offers a wide range of disciplines, including karate, krav maga, kickboxing, Jiu-Jitsu, and taekwondo. Whether you are looking to improve your self-defense skills, enhance your physical fitness, or simply learn a new discipline, our experienced instructors are here to guide and support you every step of the way. Join our welcoming community and discover the transformative power of martial arts today.
Kids' Karate & Martial Arts Classes in Grand Rapids, MI
Our children's classes combine styles of Karate, Tae Kwon Do, Krav Maga, and Kickboxing to develop a well-rounded martial artist. Your children will build character and strength while learning how to focus, persevere and respect others.
Adult Martial Arts & Self Defense Classes in Grand Rapids, MI
Our adult classes are based on the highly effective self-defense arts of Krav Maga and Kickboxing. Both programs give you a great total body workout while building confidence, helping you learn how to defend yourself, and a fun activity to enjoy with friends.
The Black Belt
of Kids' Birthday Parties
Looking for a memorable birthday party where your child and all his or her friends have a positive, active, fun day? Our martial arts birthday parties provide it all with no hassle for parents. Leave it to the birthday party experts and enjoy watching your karate star enjoy their special day.
Grand Rapids, MI

Premier Martial Arts Events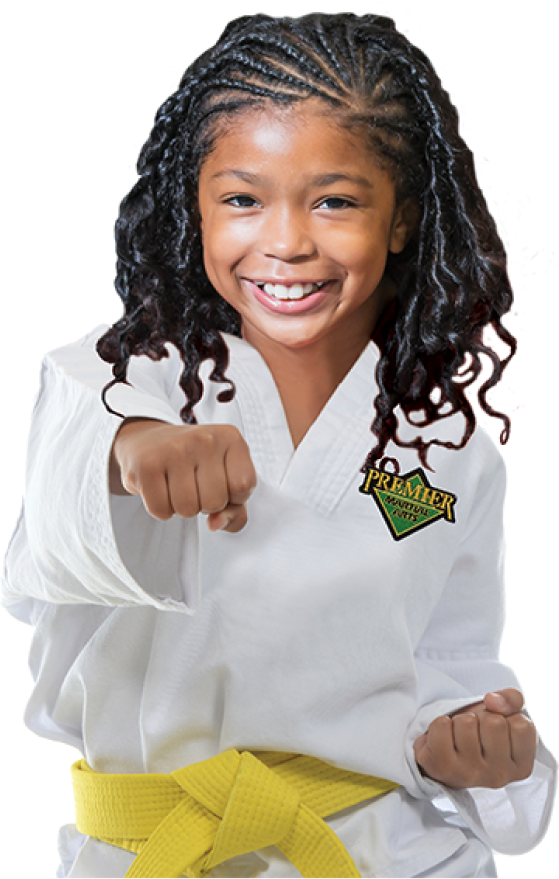 Feel Like a Champion at

Premier Martial Arts Grand Rapids, MI

Looking for a place where you and your kids can be your best self and have fun while doing it? Premier Martial Arts in Grand Rapids, MI is a positive place where you can grow your physical strength, but also change your mindset.

Find the confidence you've been looking for and instill that confidence in your children. At Premier Martial Arts Grand Rapids, MI, you'll find a welcoming team of martial arts experts ready to guide you on a journey of personal growth.

You can be stronger, faster, and happier. Come find your inner champion!
Take a look at how Premier Martial Arts programs have positively impacted our students and their families. We couldn't have said it better!
I'm writing this in tears, because I don't know where to start. I took years of martial arts and know, first hand, how important and valuable the foundation of self-confidence this sport provides in kids. Without that foundation that my past sensi's instilled in me, I would not be alive today. That being said, I felt it was important to enroll my kids in martial arts too. I have two beautiful kids, a 9 year-old girl and an 11 year-old son. I initially enrolled them in another dojo close to where we lived. While it started good, my daughter's first tournament was met with disappointment and complete hurt when her sensi didn't even acknowledge her existence. He and his wife (of which both were teachers) knew she was there, walked right past her and later didn't even acknowledge her attending the tournament. It destroyed not only her self-confidence, but especially my son's. My son has ASD (Autism Spectrum Disorder) and is officially diagnosed with Asperger's Syndrome. Many kids with this diagnosis have co-occurring diagnoses like ADHD (Attention Deficit Hyperactivity Disorder) and severe anxiety. My son has the later of the two (anxiety), as well as a sensory processing disorder. After what happened at last dojo, I knew how hard it would be to get these kiddos encouraged to continue and try a new facility. We first came to the Premier Martial Arts Kentwood location, and Ms. Z took these kids under her belt. I explained what had happened before and she really, spent quality time with them. Sensi KC was unbelievable there as well and even told my son (who has a sensory processing disorder) that if he ever felt Sensi KC or another sensi was too loud, to tell him or give him a signal. They were so incredibly considerate, patient, and understanding of the situation we were in, not to mention my concern for their loss of self-confidence from their prior dojo. Later we looked into the Grand Rapids Premier Martial Arts location, because it was a little bit closer to where we live. Again, the kids were reluctant, as change can be hard, but we gave it a try. Once again, the teachers were beyond amazing! Sensi Saisa took me into the office and gave me a chance to simply express my concerns for my kids, in particular their self-confidence. He was so understanding and immediately began working with my kids. My son has taken to him and looks up to him so much! Recently Premier Martial Arts had a tournament. Sensi Saisa took my son and daughter aside and talked to them about trying the tournament out and not being afraid. My son, surprisingly agreed. For a child with special needs as my son has, stepping out of their comfort zone is something that rarely, if ever, done. My husband and I were absolutely shocked! We knew he would be nervous, and I was definitely worried about whether he'd actually be able to compete, but we both continued to encourage him. Sensi Saisa worked with him one-on-one to create a form for the Open Form tournament and encouraged him a ton. The day of the tournament, Sensi KC, Sensi Saisa, and Sensi Ms. Z all came up to my son and encouraged him. To our surprise, he pushed through the tournament, and was so incredibly proud of his self! It was a level of self-confidence I have never seen before since I've birthed him. The owners and instructors at Premier Martial Arts have been a true answer to prayer. The instructor's kindness, patience, care and understanding to parents and especially kids they've never met sets this place apart and far, far above any dojo I've ever been to. In addition to traditional martial arts forms, the kids get a taste of weapons, with a different focused weapon per month, and true combative self-defense moves that are usually not taught in a traditional martial arts class, but, rather, in a separate self-defense class. I highly recommend this location, or any PMA locations. To Sensi Saisa, Sensi KC, Sensi Z, and Sensi Roberto...THANK YOU!
High quality interactions, instruction, and atmosphere. Consistent and uplifting environment.
Grand Rapids, MI

Premier Martial Arts Hours
TUESDAY
1:00 pm - 9:00 pm
WEDNESDAY
1:00 pm - 9:00 pm
THURSDAY
1:00 pm - 9:00 pm
SATURDAY
8:00 am - 4:00 pm
LOcation
2121 Celebration Dr NE suite 600 Grand Rapids, Michigan 49525
Ready to find your best self. No matter what your goals for exploring martial arts are, we're here to help you reach them. There's no better time to get started.
TRY PREMIER MARTIAL ARTS TODAY!
We make it easy to try our martial arts programs. Our start-up offer includes private lesson(s) with a PMA expert trainer to explore your ability level and find the right programs to help you meet your goals. We even include a uniform – everything you need to make a positive change!
TRY IT TODAY! Form
"*" indicates required fields