Location
954 US-64 Apex, North Carolina 27523
Karate, Kickboxing, Self Defense & More in Apex, NC
Strengthen Your Mind. Power Your Body.
Welcome to Apex, NC Martial Arts Studio
Welcome to the premier Karate and Martial Arts studio in Apex, NC! Whether you're a child looking to develop confidence and discipline or an adult seeking a challenging and empowering workout, our studio offers a diverse range of programs to suit your needs. With expert instructors and a supportive community, we specialize in the disciplines of Karate, Krav Maga, Kickboxing, Jiu-Jitsu, and Taekwondo. From mastering self-defense techniques to improving physical fitness, our classes provide a comprehensive and dynamic training experience for students of all ages and skill levels. Join us at Premier Martial Arts and embark on a transformative journey towards self-improvement and personal growth.
Kids' Karate & Martial Arts Classes in Apex, NC
Our children's classes combine styles of Karate, Tae Kwon Do, Krav Maga, and Kickboxing to develop a well-rounded martial artist. Your children will build character and strength while learning how to focus, persevere and respect others.
Adult Martial Arts & Self Defense Classes in Apex, NC
Our adult classes are based on the highly effective self-defense arts of Krav Maga and Kickboxing. Both programs give you a great total body workout while building confidence, helping you learn how to defend yourself, and a fun activity to enjoy with friends.
The Black Belt
of Kids' Birthday Parties
Looking for a memorable birthday party where your child and all his or her friends have a positive, active, fun day? Our martial arts birthday parties provide it all with no hassle for parents. Leave it to the birthday party experts and enjoy watching your karate star enjoy their special day.
Apex, NC

Premier Martial Arts Events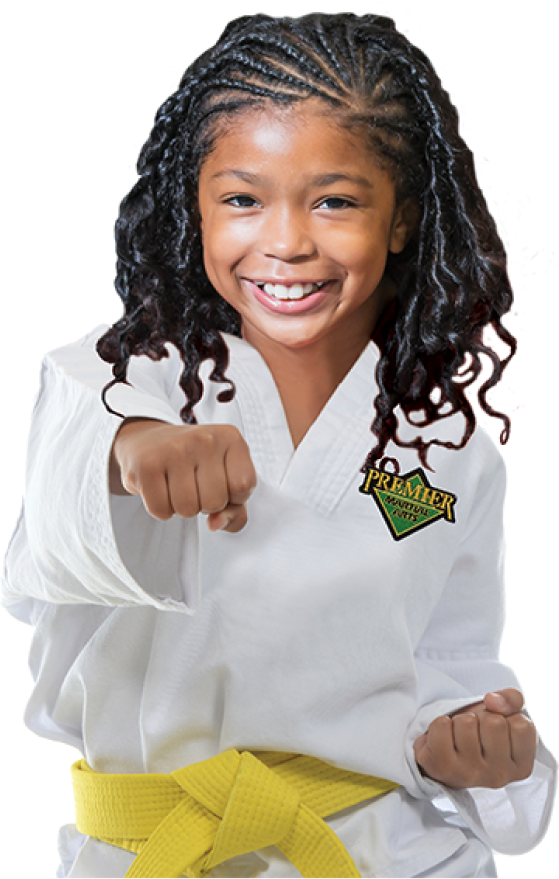 Feel Like a Champion at

Premier Martial Arts Apex, NC

Looking for a place where you and your kids can be your best self and have fun while doing it? Premier Martial Arts in Apex, NC is a positive place where you can grow your physical strength, but also change your mindset.

Find the confidence you've been looking for and instill that confidence in your children. At Premier Martial Arts Apex, NC, you'll find a welcoming team of martial arts experts ready to guide you on a journey of personal growth.

You can be stronger, faster, and happier. Come find your inner champion!
Take a look at how Premier Martial Arts programs have positively impacted our students and their families. We couldn't have said it better!
My son looks forward to class every week. I think we will be staying here for a while. Very good with little children too. Updated: As a martial artist myself I wanted to find a good place for my son. Not just a place that taught the physical but the mental aspects as well. As he is on the spectrum and at times nonverbal I did not know how it was going to go. In the 7 months he has been going here he has started talking and making friends. He has even started seeing "yes sir". During one of the huddle topics the topic of responsibility came up. My son is four and I figured it would go over his head. That's okay, he has plenty of time to learn. Later that night my wife and I were discussing things and the word responsibility came up. My son asked about it referencing Sensi Harrison. We were able to incorporate our son into our family conversations. That's worth any amount of money. My son looks forward to class every Monday and Wednesday. He feels he has learned a lot and comes home and shows us what he's learned (even tho we are there for class). Joining here has been one of the best decisions we have made and will be here for a long time.
We had a pleasure to enroll our son about a year ago in PMA with Mr. Harrison, and I have to say that he is hands down the coolest trainer around! Mr. Harrison is an expert in his field, with years of experience and a wealth of knowledge about kickboxing techniques and training methods. But what sets him apart is his ability to connect with kids on their level and make the learning process fun and exciting. My son was hooked from the first class – Mr. Harrison has an infectious enthusiasm and energy that is impossible to resist. He challenges the kids to push themselves to their limits while also making sure that they are having a blast in the process. The class itself is well-structured and engaging, with a great mix of drills, exercises, and games that keep the kids on their toes. Mr. Harrison is always coming up with new and creative ways to teach and inspire. But what really sets Mr. Harrison apart is his commitment to his students. He takes the time to get to know each child and understand their unique strengths and challenges, and he works tirelessly to help them reach their full potential. Overall, I would highly recommend Mr. Harrison to anyone looking for a kickboxing trainer for their child. He is an expert in his field, a gifted teacher, and – most importantly – an all-around cool guy who truly cares about his students.
This PMA school is the absolute best. It is very unassuming in it's presence and wonderful for your kids if they are usually overwhelmed in larger, or crowded, spaces. It's located in a small strip mall next to a music school and Mathnasium (which is convenient to coordinate if you have other kids needing these). We started martial arts to increase focus, discipline and redirect aggressive behavior we were seeing at home. We have learned SO much at PMA since we started over a year ago. I cannot say enough about this school and Sensei Harrison in particular. What my son has gained from him I am sure he will keep for a lifetime. He admires and respects him greatly. As with many other parents, the concern for most is the financial investment. We have 4 kids, and I have never regretted the investment we have made for our son at PMA.
Apex, NC

Premier Martial Arts Hours
LOcation
954 US-64 Apex, North Carolina 27523
Ready to find your best self. No matter what your goals for exploring martial arts are, we're here to help you reach them. There's no better time to get started.
TRY PREMIER MARTIAL ARTS TODAY!
We make it easy to try our martial arts programs. Our start-up offer includes private lesson(s) with a PMA expert trainer to explore your ability level and find the right programs to help you meet your goals. We even include a uniform – everything you need to make a positive change!
TRY IT TODAY! Form
"*" indicates required fields