Location
2714 W Lake Houston Pkwy ste 170 Kingwood, Texas 77339
About PREMIER MARTIAL ARTS
Strengthen Your Mind. Power Your Body.
At Premier Martial Arts, we help all our students build confidence, develop discipline and grow their character, all while providing a fun, safe physical activity for all ages.
Working with our trained martial arts experts, you'll reach your goals while empowering your mind and body.
Kids' Martial Arts Classes
Our children's classes combine styles of Karate, Tae Kwon Do, Krav Maga, and Kickboxing to develop a well-rounded martial artist. Your children will build character and strength while learning how to focus, persevere and respect others.
Adult Martial Arts Classes
Our adult classes are based on the highly effective self-defense arts of Krav Maga and Kickboxing. Both programs give you a great total body workout while building confidence, helping you learn how to defend yourself, and a fun activity to enjoy with friends.
The Black Belt
of Kids' Birthday Parties
Looking for a memorable birthday party where your child and all his or her friends have a positive, active, fun day? Our martial arts birthday parties provide it all with no hassle for parents. Leave it to the birthday party experts and enjoy watching your karate star enjoy their special day.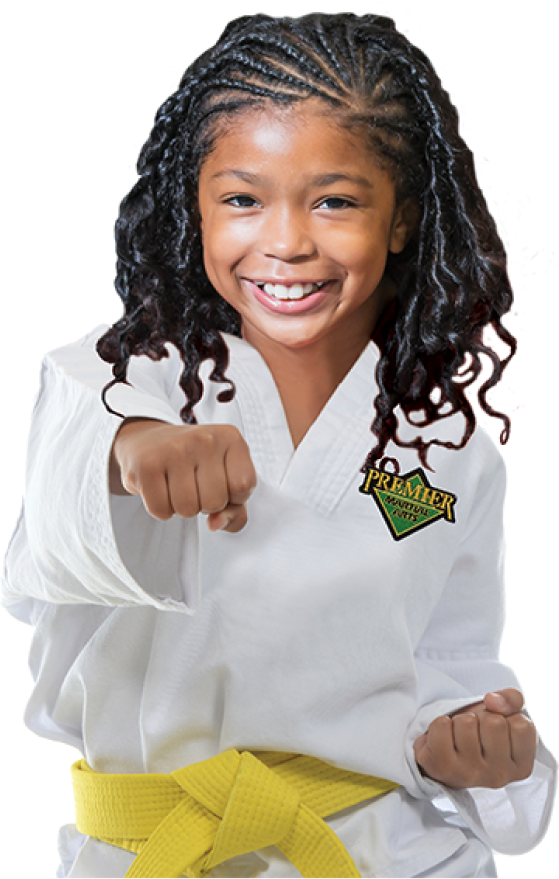 Feel Like a Champion at

Premier Martial Arts Kingwood, TX

Looking for a place where you and your kids can be your best self and have fun while doing it? Premier Martial Arts in Kingwood, TX is a positive place where you can grow your physical strength, but also change your mindset.

Find the confidence you've been looking for and instill that confidence in your children. At Premier Martial Arts Kingwood, TX, you'll find a welcoming team of martial arts experts ready to guide you on a journey of personal growth.

You can be stronger, faster, and happier. Come find your inner champion!
Take a look at how Premier Martial Arts programs have positively impacted our students and their families. We couldn't have said it better!
We love PMA! My kiddo did not have alot of confidence when we started. We were new to the area and he was missing home big time. His teachers noted his lack of attention and participation in class. We started classes and soon the "parents night out" was offered. He really wanted to go but felt super uncomfortable. The Senseis were so kind to him pulling him out of his shell. When we picked him up, he was having such an awesome time and did not want to leave! He has loved PMA and all of the Senseis and Mrs. Vickie ever since! Each Sensei brings something unique to teach the kids. They all talk to them and show them respect like they matter and this is important to our family. I cannot express how many times we see these shy, head down kids come in with the group and in just a couple of months, they are standing a taller, running in to get on the mat. This team is positive and supports kids. They do not tear them down and they help them to find their confidence and worth. That has been our experience with PMA Kingwood. We love them as if they are part of our family!! We are looking forward to continued growth with the PMA family!
Our son has attended PMA Kingwood for over a year and we have had the best experience there. The instructors have been phenomenal at building a positive connection with him, taking the time to get to know our son, and meet his needs. The management has always been helpful answering our questions, and responding to our requests. The staff does a wonderful job of providing parents with instruction as well, to not only defend ourselves, but also train our children to perform well in class and be ready in the case someone attempts to harm them. Since starting at PMA Kingwood, we have seen our son's confidence soar. He has overcome so many personal obstacles, and his performance both in everyday life, as well as school life have drastically improved. Since starting at PMA Kingwood- his focus , his emotional control, and his desire to overcome obstacles have led to positive changes in all areas of his life. He says he likes PMA because it has taught him to defend himself, to which I am most thankful for Premier Kingwood instructors for- knowing our son is prepared in the event of someone trying to harm him. The peace of mind this gives me is worth every penny we spend there.
PMA is truly a family! The Sensei's and staff care deeply about every single child and it shows! Our son has grown tremendously in his confidence, determination, and emotional intelligence throughout his last year as a student. He loves Marshall Arts and the peace that being able to defend himself brings. Thank you PMA family for all you do!
Kingwood, TX

Premier Martial Arts
TUESDAY
3:00 pm - 9:00 pm
THURSDAY
3:00 pm - 9:00 pm
LOcation
2714 W Lake Houston Pkwy ste 170 Kingwood, Texas 77339
Ready to find your best self. No matter what your goals for exploring martial arts are, we're here to help you reach them. There's no better time to get started.
TRY PREMIER MARTIAL ARTS TODAY!
We make it easy to try our martial arts programs. Our start-up offer includes private lesson(s) with a PMA expert trainer to explore your ability level and find the right programs to help you meet your goals. We even include a uniform – everything you need to make a positive change!
TRY IT TODAY!
"*" indicates required fields