Location
535 W 400 N ste a West Bountiful, Utah 84010
Karate, Kickboxing, Self Defense & More in Bountiful, UT
Strengthen Your Mind. Power Your Body.
Welcome to Our Bountiful, UT Martial Arts Studio
Welcome to our premier Karate and Martial Arts studio in the heart of Bountiful, UT! We take pride in offering exceptional programs for both kids and adults in a variety of disciplines, including karate, krav maga, kickboxing, Jiu-Jitsu, and taekwondo. Our dedicated instructors are experienced professionals who are passionate about teaching the art of self-defense while instilling discipline, confidence, and respect in our students. Whether you're looking to improve your fitness, learn self-defense techniques, or simply want to challenge yourself in a supportive environment, our studio is the perfect place to embark on your martial arts journey. Join us today and discover the transformative power of martial arts!
Kids' Karate & Martial Arts Classes in Bountiful, UT
Our children's classes combine styles of Karate, Tae Kwon Do, Krav Maga, and Kickboxing to develop a well-rounded martial artist. Your children will build character and strength while learning how to focus, persevere and respect others.
Adult Martial Arts & Self Defense Classes in Bountiful, UT
Our adult classes are based on the highly effective self-defense arts of Krav Maga and Kickboxing. Both programs give you a great total body workout while building confidence, helping you learn how to defend yourself, and a fun activity to enjoy with friends.
The Black Belt
of Kids' Birthday Parties
Looking for a memorable birthday party where your child and all his or her friends have a positive, active, fun day? Our martial arts birthday parties provide it all with no hassle for parents. Leave it to the birthday party experts and enjoy watching your karate star enjoy their special day.
Bountiful, UT

Premier Martial Arts Events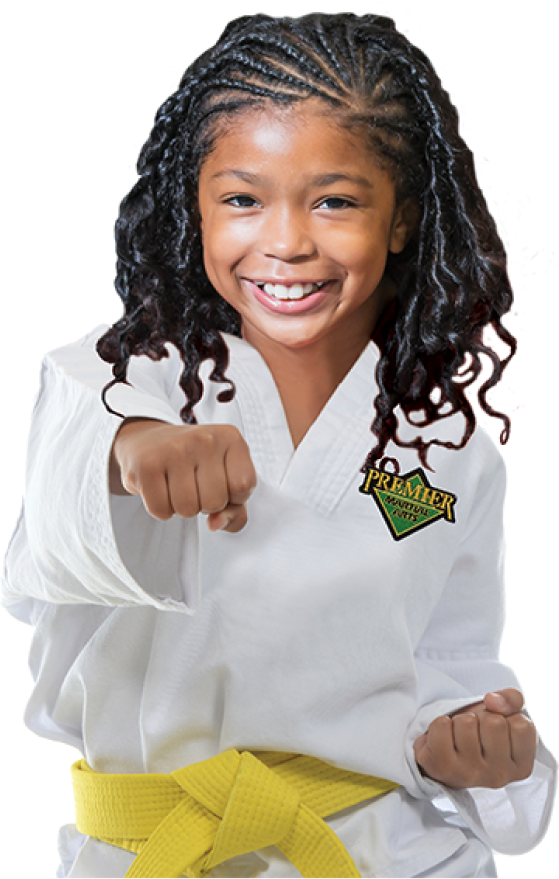 Feel Like a Champion at

Premier Martial Arts Bountiful, UT

Looking for a place where you and your kids can be your best self and have fun while doing it? Premier Martial Arts in Bountiful, UT is a positive place where you can grow your physical strength, but also change your mindset.

Find the confidence you've been looking for and instill that confidence in your children. At Premier Martial Arts Bountiful, UT, you'll find a welcoming team of martial arts experts ready to guide you on a journey of personal growth.

You can be stronger, faster, and happier. Come find your inner champion!
Take a look at how Premier Martial Arts programs have positively impacted our students and their families. We couldn't have said it better!
New martial arts studio. So far so good for my 7 year old boy. Words I like to hear as a parent: self discipline, confidence, and winning. My boy has loved it so far....now he is 10. Shout out to Brett, Mark and Kim running a great dojo!
We had Kiera and Mark from Premier Martial Arts come do a summer reading program at the Kaysville library and it was awesome! They are great at what they do--great teachers, great with the kids. Their teaching style is focused not just on karate moves but on values. They were really positive and professional and great to have!! Couldn't recommend more highly!
I love PMA. I love going there. I love the training we do and the new people I get to meet sometimes. The instructors I've got are very encouraging and will critique you and the training sessions are fun, so that's why I rate it 5 out of 5 stars. Instructor Chance is really good and Instructor Brett, who sometimes substitutes for him, is also really good about teaching us how to do things and last month Brett supervised a stripe test while Chance was out of town. If I could, I would rate this 10 stars instead of 5 because I have classmates who have been persistent about coming to PMA like me but have not been here as long as me and are still a higher belt rank than I am. I'm a purple belt, Quentin Jones is a green belt, Addison and Luke are brown belts, and my classmate Mila has acquired her first red belt. One of the kids in my class whose name is Alex is an purple belt, my classmate Paul is a purple belt just like me, and Gaby is another orange belt. Dani and Braxton and Emily and the other Alex are all white belts. I'm 13, but I'm still in the T/F 5:45 class because my mom doesn't want me staying up until 10 pm. My mom drives me to class every Tuesday and Friday except for a couple of classes in July because we are the kind of people who go to Duck, North Carolina, for six days and then go to my mom's dad's house for another three and spend three days driving in a row. But this is one of the best PMA studios I've ever been to. I can't deny it. The instructors expect us to be loud and confident, and I'm confident that I've memorized the student creed. This is one of the best PMA locations I've ever been to. I truly am on a quest to be my best. Remember, common sense before self defense! This is a Black Belt School! We are dedicated! We are motivated! We are on a quest to be our best! Winners never quit! Quitters never win! I choose to win. I CHOOSE TO WIN!
Bountiful, UT

Premier Martial Arts Hours
TUESDAY
3:00 pm - 9:00 pm
WEDNESDAY
3:00 am - 9:00 pm
THURSDAY
3:00 pm - 9:00 pm
SATURDAY
9:00 am - 12:00 pm
LOcation
535 W 400 N ste a West Bountiful, Utah 84010
Ready to find your best self. No matter what your goals for exploring martial arts are, we're here to help you reach them. There's no better time to get started.
TRY PREMIER MARTIAL ARTS TODAY!
We make it easy to try our martial arts programs. Our start-up offer includes private lesson(s) with a PMA expert trainer to explore your ability level and find the right programs to help you meet your goals. We even include a uniform – everything you need to make a positive change!
TRY IT TODAY! Form
"*" indicates required fields