Location
5714 134th Pl SE a 14 Everett, Washington 98208
Karate, Kickboxing, Self Defense & More in Everett-Millcreek, WA
Strengthen Your Mind. Power Your Body.
Welcome to our premier karate and martial arts studio in Everett-Millcreek, WA! We are proud to offer a wide range of programs for both kids and adults, specializing in the disciplines of karate, krav maga, kickboxing, Juijitsu, and taekwondo. Whether you are looking to improve your self-defense skills, enhance your physical fitness, or simply engage in a fun and empowering activity, our experienced instructors are here to guide you on your martial arts journey. With a focus on discipline, respect, and personal growth, our studio provides a welcoming and supportive environment for individuals of all ages and skill levels. Join us today and discover the countless benefits that martial arts training can bring to your life.
Kids' Karate & Martial Arts Classes in Everett-Millcreek, WA
Our children's classes combine styles of Karate, Tae Kwon Do, Krav Maga, and Kickboxing to develop a well-rounded martial artist. Your children will build character and strength while learning how to focus, persevere and respect others.
Adult Martial Arts & Self Defense Classes in Everett-Millcreek, WA
Our adult classes are based on the highly effective self-defense arts of Krav Maga and Kickboxing. Both programs give you a great total body workout while building confidence, helping you learn how to defend yourself, and a fun activity to enjoy with friends.
The Black Belt
of Kids' Birthday Parties
Looking for a memorable birthday party where your child and all his or her friends have a positive, active, fun day? Our martial arts birthday parties provide it all with no hassle for parents. Leave it to the birthday party experts and enjoy watching your karate star enjoy their special day.
Everett-Millcreek, WA

Premier Martial Arts Events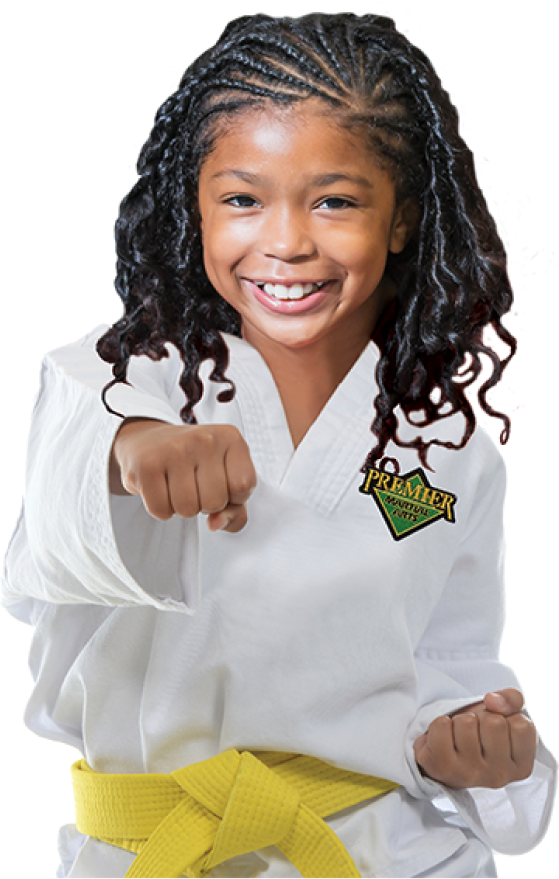 Feel Like a Champion at

Premier Martial Arts Everett-Millcreek, WA

Looking for a place where you and your kids can be your best self and have fun while doing it? Premier Martial Arts in Everett-Millcreek, WA is a positive place where you can grow your physical strength, but also change your mindset.

Find the confidence you've been looking for and instill that confidence in your children. At Premier Martial Arts Everett-Millcreek, WA, you'll find a welcoming team of martial arts experts ready to guide you on a journey of personal growth.

You can be stronger, faster, and happier. Come find your inner champion!
Take a look at how Premier Martial Arts programs have positively impacted our students and their families. We couldn't have said it better!
This is a great place for kids to learn discipline and hard work while having fun. Sensei Bennett and Sensei Profit(hope I spelled that right) are both great with kids. They are firm with their instructions but never harsh. The kids all really respect them and try hard to do well in class. I feel like it's great for my son and I'm glad we found this place.
This is a really awesome school. They have a fun yet disciplined and focused learning. Both the teachers also try to mix it with a lot of words of encouragement and self belief. Great experience for the past few months
My son looks forward to his classes every single week. I'd like to give a specific shout out to sensei Bennett, he is so patient with the kiddos and does a really amazing job at calming down kiddos when they're upset (speaking from experience with my own toddler lol). He's great at getting kid's attention when they get distracted in a way that's not giving "I'm the boss so you need to listen to me" vibes. Overall, staff and both senseis my son has worked with (sensei Bennett + sensei prophit) have been such a positive experience for my son! Highly recommend this location and this extracurricular activity for your kids as it teaches more than just martial arts. My son is learning things like being more aware, listening with purpose, etc. life skills that he can take into the outside world which is exactly what I was searching for when choosing an extracurricular activity for my 4 year old.
Everett-Millcreek, WA

Premier Martial Arts Hours
LOcation
5714 134th Pl SE a 14 Everett, Washington 98208
Ready to find your best self. No matter what your goals for exploring martial arts are, we're here to help you reach them. There's no better time to get started.
TRY PREMIER MARTIAL ARTS TODAY!
We make it easy to try our martial arts programs. Our start-up offer includes private lesson(s) with a PMA expert trainer to explore your ability level and find the right programs to help you meet your goals. We even include a uniform – everything you need to make a positive change!
TRY IT TODAY! Form
"*" indicates required fields